MOSAIC WORKSHOPS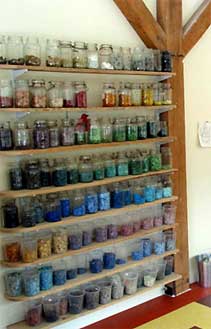 BIG BANG MOSAICS studio
I am always eager to share my passion for the mosaic medium and really love teaching. I have been instructing mosaics for many years, both here in my studio and at several long established art and craft centers across the US. The main focus of my workshops is the indirect method, which is how I do 99% of my mosaics, the exception being 3-D surfaces.
2017 SCHEDULE
Sugar Maples Center for Creative Arts, Maplecrest, NY June 23, 24, 25 Indirect Method
Peters Valley Craft Center, Layton, NJ July 21, 22, 23 Indirect Method
Cape Cod Mosaic Workshop Falmouth, MA September 23, 24 Abstract Mosaics






BUCKLAND STUDIO WORKSHOP OVERVIEW
In my studio, workshops are 2 days in length. I present a brief history of the medium, explain the different methods of working (direct, indirect, and variations within these categories), then overview information on materials, substrates, and tools. The always important andamento, or way mosaic tiles are laid, is addressed, as well as use of color and tile shape. My main focus is the indirect method. Working indirectly offers the artist the most flexibility in making changes to a piece during the assembly process, allows for a flatter final product, and keeps the laying process 'clean'. Need a place to stay? One option, Janice Sorensen, a good friend of mine and an artist as well, has listings via Airbnb:
Pale Blue Room
/
Day Room
/
Treehouse
BUCKLAND Studio Workshops, 2017
MAY 20 - 21
I keep an ongoing list of students interested in workshops here in my studio. I
f you would like to sign up for a workshop or be put on this list, email me, cindy@bigbangmosaics.com! There is a 5 student minimum for the class to run.
WORKSHOP DETAILS click here for specifics of workshop hours, sign-up info, cost etc.
For those of you that have taken a workshop, here is the list of suppliers I use::
http://www.susanjablonmosaics.com/
NY state supplier
http://www.marylandmosaics.com
nice selection of different kinds of mosaic materials
http://www.mosaictilesupplies.com/
big selection
http://www.mosaicartsupply.com/
One can get smaller amounts here, best price on nippers
http://www.hakatai.com/
good prices
http://www.stainedglasstile.com/
stained glass in small sheets and cut in specific sizes, great stuff, also ship out promptly
---
Below are a few examples of mosaics made in a weekend workshop....