BIG BANG MOSAICS - CYNTHIA FISHER
---
I create custom fine art mosaics, residential mosaics and mosaic murals in public settings nationwide. I conduct school residencies and community projects and teach mosaic workshops at several art centers and at my studio in western Massachusetts, BIG BANG MOSAICS. Fine art mosaics, most notably abstract mosaics are my passion and my work has won numerous national and international awards.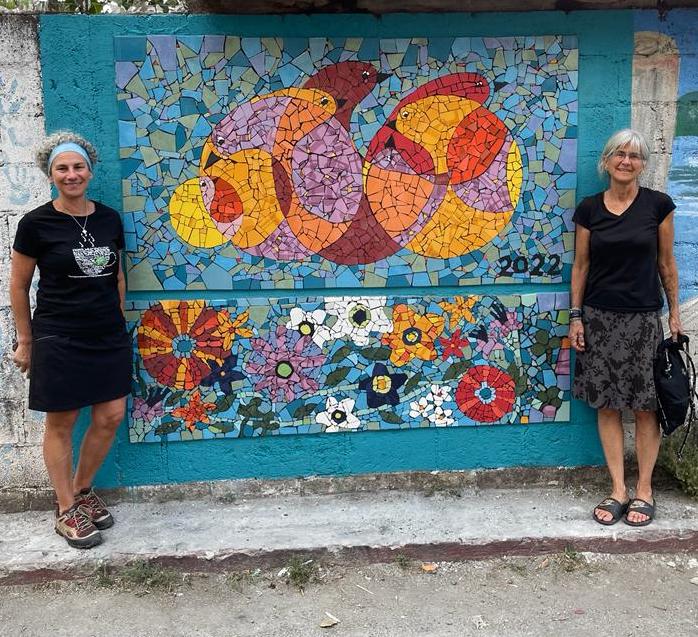 Suzanne Owayda, my venerable #2 proudly showing off one of the many mosaics created in week 2, more pictures in GUATEMALA gallery
---
Another mosaic trip to Guatemala, Spring 2022 is now history! Two groups joined me in creating several beautiful mosaics for the lovely town of San Lucas Toliman. Stay tuned for next year's return! We have been invited to create murals for the walls of a former orphanage that is being transformed into a center for homeless elderly members of the community.
Most of my time is devoted to commission work, from kitchen backsplashes for homeowners to giant splash pads and mosaic murals for cities in southern Florida. In between I focus on creating my own work, the above and below mosaics are examples. Head to the
Fine Art Mosaics
page to see this body of work.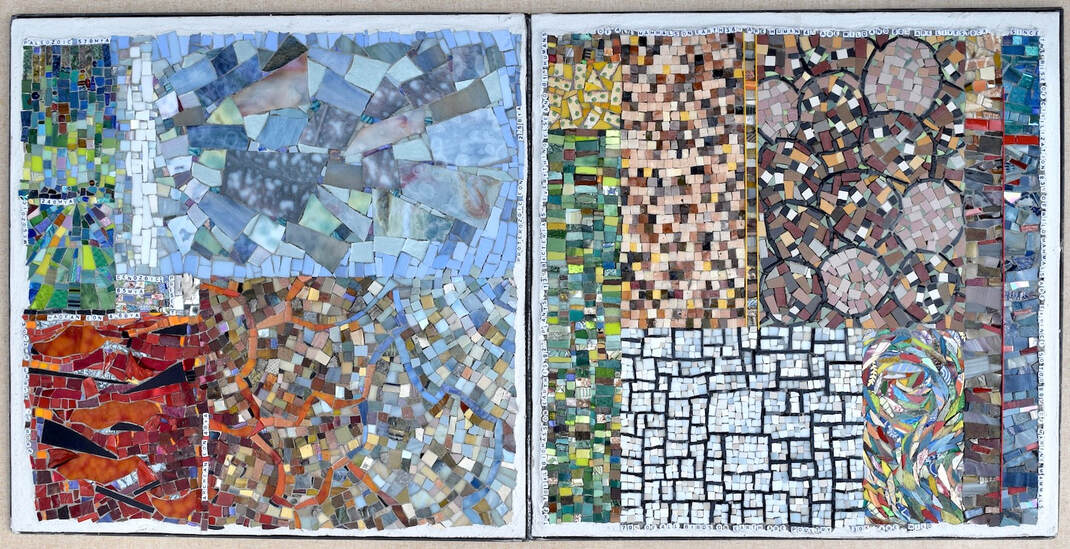 'INSIGNIFICANT YET ABSOLUTELY DOMINANT', a diptych depicting 'EARTH TIME' on the left and 'THE ANTHROPOCENE' on the right, part of my series, Mosaic Journey, My Ramblings on Being Human.
---
I enjoy sharing my 20+ years of experience creating mosaic tile art and frequently teach

MOSAIC WORKSHOPS

here in my BIG BANG MOSAICS studio. I also teach workshops at craft centers, follow the links on the workshop page.

Go to the

Artist Info

page for contact information and to read my artist statement, check out current exhibitions and more.
---
---
GALLERIES LANDING
is a good starting point to view all the mosaic tile art you can imagine -
the various categories of my work range from fine art mosaic abstracts to architectural mosaic murals, community projects and residential work and more...