Exhibitions, 2017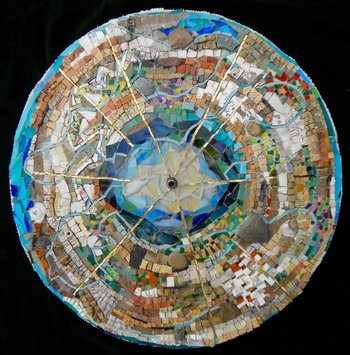 NEW ENGLAND MOSAIC SOCIETY Member Exhibition 2017. The exhibition showcases contemporary mosaic art incorporating different materials, styles and themes.
EXHIBIT DATES: September 20 – October 8, 2017
OPENING RECEPTION: Friday, September 22nd, 5-7pm
LOCATION: The exhibition and reception will be at the Cultural Center of Cape Cod, 307 Old Main
Street, South Yarmouth, MA 02664.

I recently learned this mosaic won a BEST in SHOW award!!

---
---
| | |
| --- | --- |
| MAKING MATTERS: Fresh Perspectives in Fine Craft, in the Sally D. Francisco Gallery from June 3 through September 4, 2017 with an opening reception from 5-7pm on Saturday, June 3rd. Peters Valley Gallery Hours: Daily from 10am to 6pmwww.PetersValleyGallery.org Peters Valley School of Craft, 19 Kuhn Rd., Layton, NJ 07851 | |
---
UNEVEN SURFACE- Rough Illuminations
Opening Night: Saturday February the 18th, closing March 18.

The focus of this show is to bring to light the less common, nontraditional, multi material mediums. The commonality is that they all capture light and portray movement through a dimensional surface, secondarily through pattern, color and texture.

Hygienic Art Gallery- 79 Bank St, New London, CT 06320 (860) 443-8001
---
Exhibition of Mathematical Art, 2017 Joint Mathematics Meeting, Atlanta, GA, Jan 2017

I was thrilled to have my work selected for this show. Most of the participants are mathematicians first, and artists on the side - so their explanations for the math behind the art are quite esoteric for the rest of us. In fact, many of my mosaic abstractions are based on mathematic principals, but I only understand them from a visual perspective. In this work, 'Squaring the Circle', the central portion is geometry behind how 2 circles and a spiral form a square. The background andamento is inspired by computer images of the strokes of Jackson Pollock (now we're getting out there...!)

---